WINNING RESOLUTIONS
Winning Resolutions
I've got New Year's Resolutions like the next person - but like much of the general population, they've been put on hold with a wicked case of the flu since the start of the new year.  That's not stopped clients and prospects from calling, emailing and texting letting me know this is the year they want to go on the market and this is the SPRING MARKET they want to be in.  Look outside and know for sure that spring is not on the horizon in the midwest. Not anywhere in sight.   Spring market starts on/around the week after Super Bowl Sunday (2/4) which has sellers in a scramble to ready their homes for me to stage as necessary to achieve mutual goals of top dollar in swift time periods.  
Knowing there is no time to waste - and they are certainly not waiting on me for an initial walk thru (hello FaceTime!) here are the three things each and every resale client is doing to their homes for the next three weeks:
Rigorous editing and decluttering - No one's home is immune.  "Is this going to help you sell your home?" is a question I ask repeatedly.  If shabby/worn/past prime - let them go.  Over or undersized/awkward? Send them away and let's find better solutions.  Kids/teens have taken over?  Take back adult space!  Loved collections out of hand???  Limit.  Closets full?  Remove 1/2 of what you have there and we'll pretty the rest. Sounds so definitive, doesn't it, but "is this going to help us sell our home?" is a pretty weighty question.  I look at EVERYTHING and make sure utility and style are critically considered and attended to. Go ahead and be ruthless.  This part feels amazing.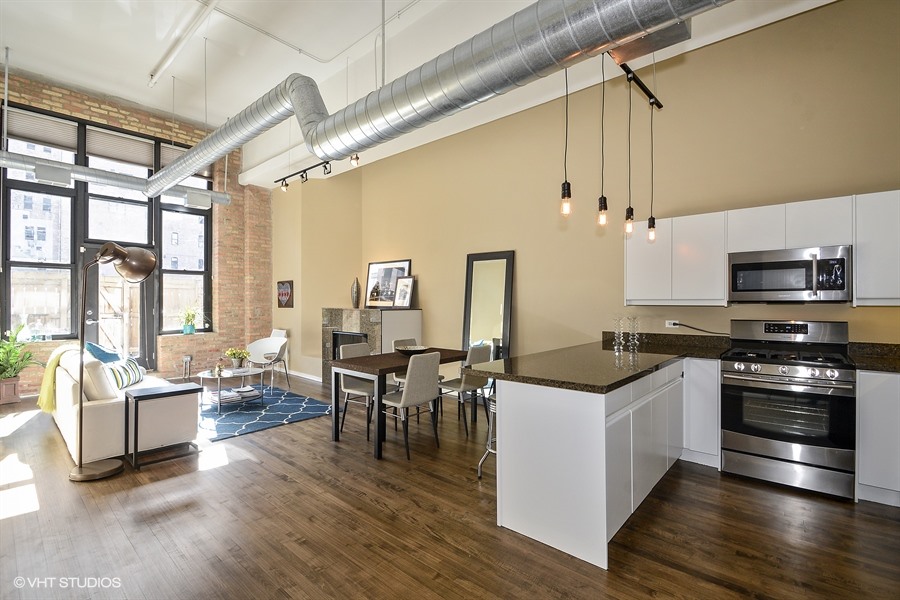 Note: We neutralized the walls, darkened the floors, painted the cabinets, added shiny appliances and cool pendant lights + staged the place to show off it's fantastic features.  Patrick had several offers to choose from - all significantly higher than the building had experienced pre-crash.  
Deep cleaning and refreshing - This is the time to not only clean your baseboards but repaint them as necessary! Look at your ceiling lights, the corners of each room, light switches, tile grout, backsplashes, windows, area rugs/carpet, stair runners... You get it. There are services who not only will steam clean your carpeting but will do your furniture, floor tiles and shower/tub surround. Use them! There are also companies who will remove all your blinds, clean them and re-install.  In a day! Washing your windows before the summer?? YES!!  If your home needs modern paint colors, new appliances, refinished floors, this is the time to utilize the pros and for future, don't wait until time to sell!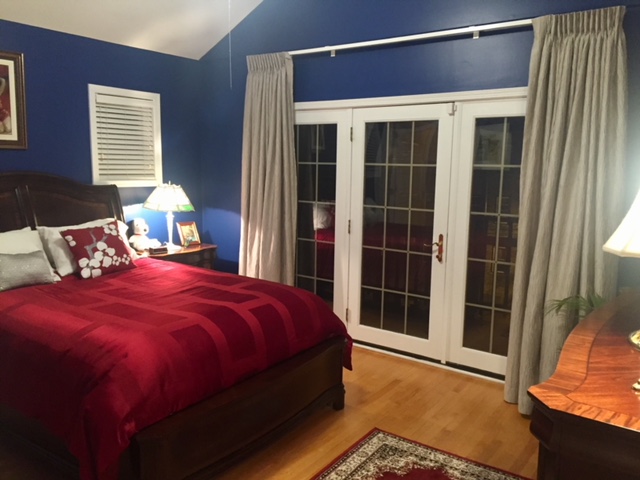 Note: if you saw client's lovely art, you'd see the colors kind of pulled together.  Although she even thought the blue a bit bright but that's a hard swallow after the painters finish their work.  Imagine you are the buyer... would you want to tackle this job right off the start?  Nope.  We recommend you get on-trend colors from the start and make it super-easy for buyers to fall desperately in love...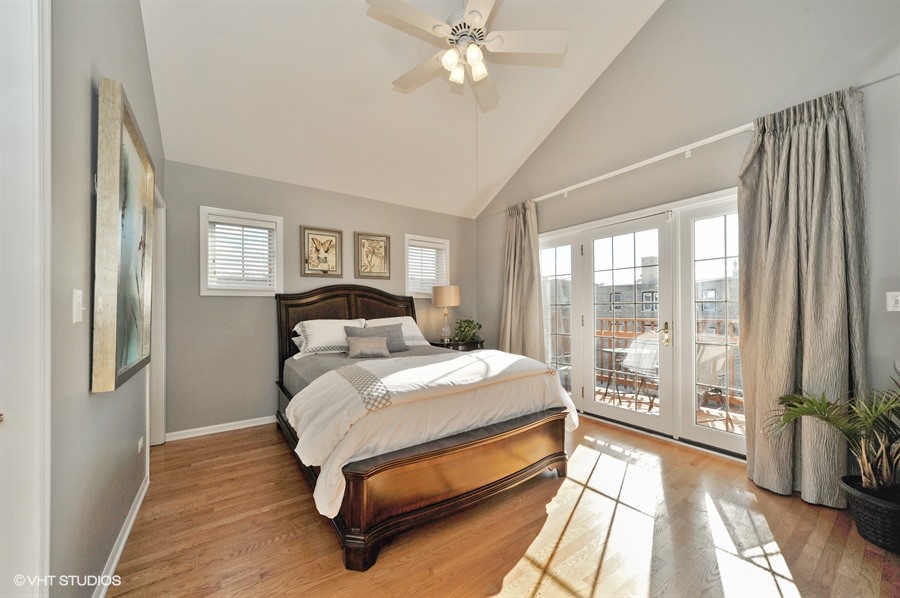 Note: They DO fall in love.  Desperately in love!  Now, curtains match the walls and we layered bedding to match as well + added calming art to make you happy but not necessarily take too much notice away from the overall space.  We also rolled up the rug to let these beautiful floors gleam on their own (and expand the room!)  Linda had 5 offers to choose from!
Creating more space and light - Clients find this part amazing that I'll have them remove furniture only to bring more in.  Right-sized furniture, art, accessories and lighting does wonders to sell and staging is often the key element to the top dollar/swift turn-time.  Love that oversized chair that everyone snuggles in at night?  This is no longer 'your home' so make the decision to store it for future or let it go if downsizing.  Would a table with a few chairs fit the space just as well, creating more functionality?  Let's do it!  Each room should have three points of light and I recommend light-reflecting options to further expand the space: mirrors, framed images with large white mats and glass fronts, silver, mercury or clear glass or crystal in vases/candlesticks, lamp bases, etc. will catch the eye and visually lighten the room.  Pillows and throws can break up dark furniture and provide a 'touch me' element which pulls buyers physically in to the room.  The longer they stay, the more emotionally engaged.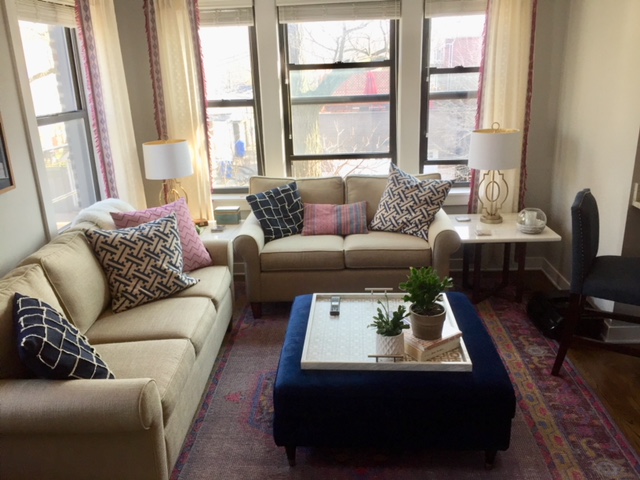 Note: I adore this ottoman and especially love the right-sized tray+accessories on top.  Functionality and style are A+ but client is selling her condo, not her table.  If buyers can't see the floor, they don't know the space exists....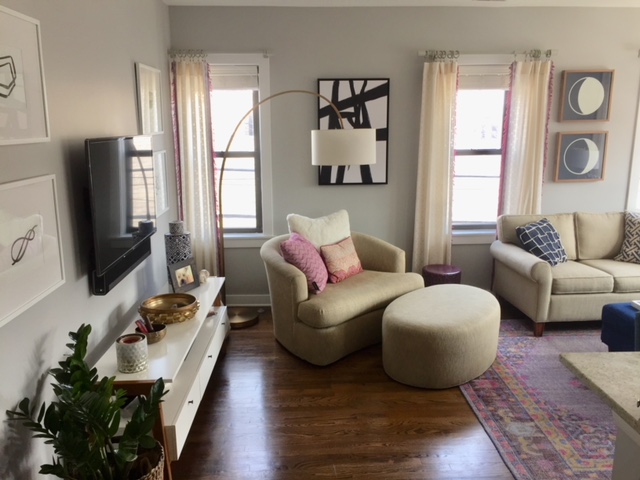 Note: Of COURSE we wan't to curl up here!! Forever!! HOWEVER, buyers want versatile open floor plans and this room reads awesome living room + kitchen.  Buyers are picky and want it all and whether they ever do throw a dinner party or not, they want the option and space for a table.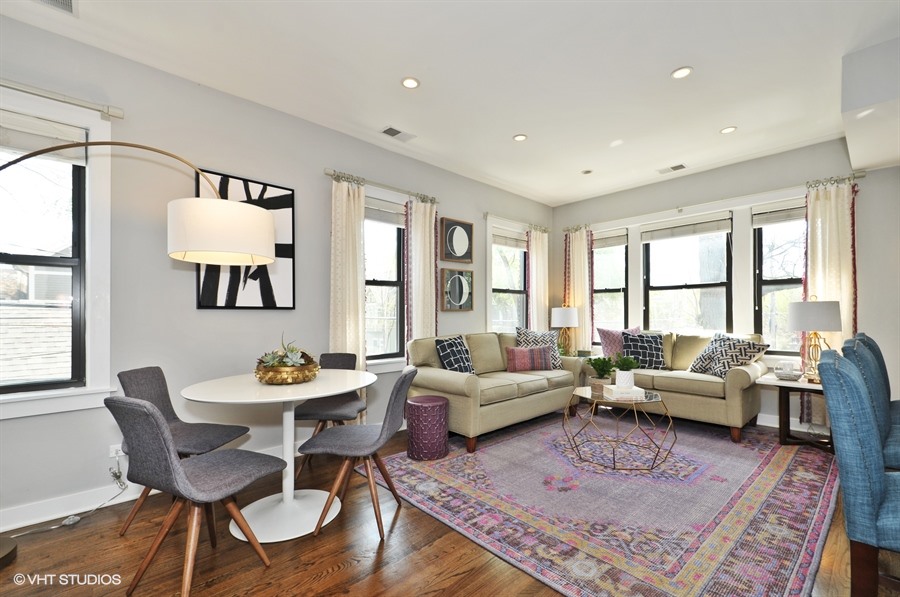 Note: do you see the see-through AND reflective coffee table?  Living room section literally expands!  Adding a table and four chairs gives that third solid surface for your cocktail party nibbles and drinks AND a proper/hip space for face-to-face meals!   Jen had so many offers to choose from + the winning bid also bought the coffee table from us!
Room-by-room we go with 'top dollar/swift turn-time' mantra in mind. Each home gets a full detailed success plan and 100% of sellers will say "we should have done this a long time ago!"  Pricing the home for sale… a discussion for another day!  Call/email/text to get on our schedule to stage and sell your home!  We'd love for you to say "Yay to WINNING RESOLUTIONS!!" 
Thinking about moving to Chicago?
Great, you should!! And here is why
From the tall skyscrapers to the 77 neighborhood, Chicago is one of the greatest and most diverse cities in the United States. With the legendary magnificent mile, the Lake Michigan Shoreline, and the World Series Champions Chicago Cubs this city is truly breathtaking.
If Sporting Events are not your preference, do not worry! There are plenty of events, festivals, and restaurants to go check out. You can visit the world famous Willis and Hancock Towers.
The Museum of Science and Industry
along with
Shedd aquarium
are must see as well. 
If festivals are more your thing,
click here
and check out the 2017 festival and event schedule. 
Whatever your interest or preference may be, Chicago has something for everyone from the blooming culture and business of the West Loop, to fun party atmosphere of Wrigleyville. Whatever and wherever you are looking we are happy to help!!
We were recently featured in Crain's as well!! Check it out 
Click below to see my previous projects Houzz.com: 
Thank you!
-The Clare Sells Homes Team